SISTERS CREEK REHABILITATION
The Environmental Issues class at Dominican University, in San Rafael, California, aims to introduce students to a broad overview of sustainability issues. Project based learning enhances the learning of the more theoretical and scientific aspects of the class, as well as providing opportunities for learning transferable skills. In Spring 2002, this class was taught by Joanne Tippett, with a focus on creek rehabilitation and sustainable planning.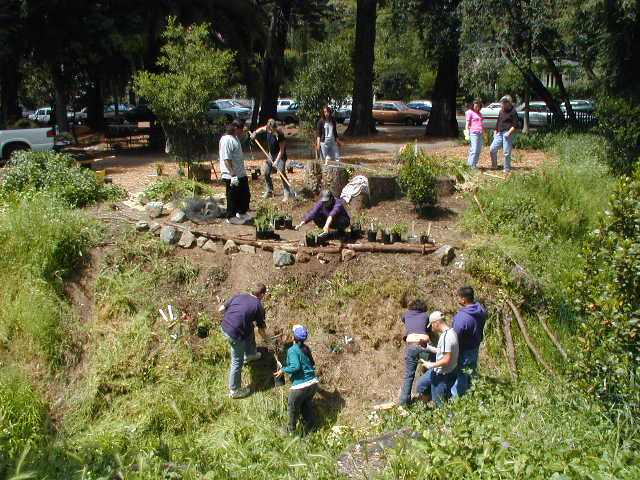 Creek Rehabilitation
Following the important principle for success in long range planning, "start small with projects that lead to success stories", a small area of the creek was cleared of invasive non native weeds (mainly periwinkle and thistle) and was planted with native riparian plants. The stumps of former eucalyptus trees provided a handy platform for tools, and the planting plan was designed both as a complement for the oaks and bay trees planted to replace them, and as an experiment in creek rehabilitation - which plants will survive minimal maintenance? Will any plants go on to colonize areas of the creek? Will these plants manage to out compete with the non - native invasive plants (aided with cardboard and mulch in the first year)?
We would like to extend a warm thanks to: Michael Henkes, Facilities Manager, Dr. Cunningham and Peter Thut, Buddy Williams and Bryce (from facilities) for their assistance and support in this project. Joanne would also like to thank Susan Schwartz of Friends of Five Creeks for her advice, as well as the many people in the Marin Chapter of the California Native Plant Society I contacted. I would like to thank the staff at O'Donnell's Nursery in Fairfax for their advice and the 10% discount on plants.

Creative Long Term Plans for Dominican Campus
Teams of students created long term landscape plans for a sustainable campus. See examples of plans and recommendations. During the class time, one student, Carmen Tristan, began exploring the possibilities of creating an student-based organization to help promote the rehabilitation of the creek, and wrote this report : Creek_restoration_creek_club.
Information Gathering in Student Projects
As part of the class, students gathered information on sustainability issues, as they related to the creek. These issues covered a range of topics, from community participation in creek rehabilitation, to the eradication of periwinkle. Student reports